Shabby Chic Tool Crate DIY
I am a Fixer Upper fanatic. I love that show, and when I saw this adorable tool crate turned to planter on one of their episodes I had to have it! Not being one to spend money on decorating (as I know so many of you are), I set my mind to making it.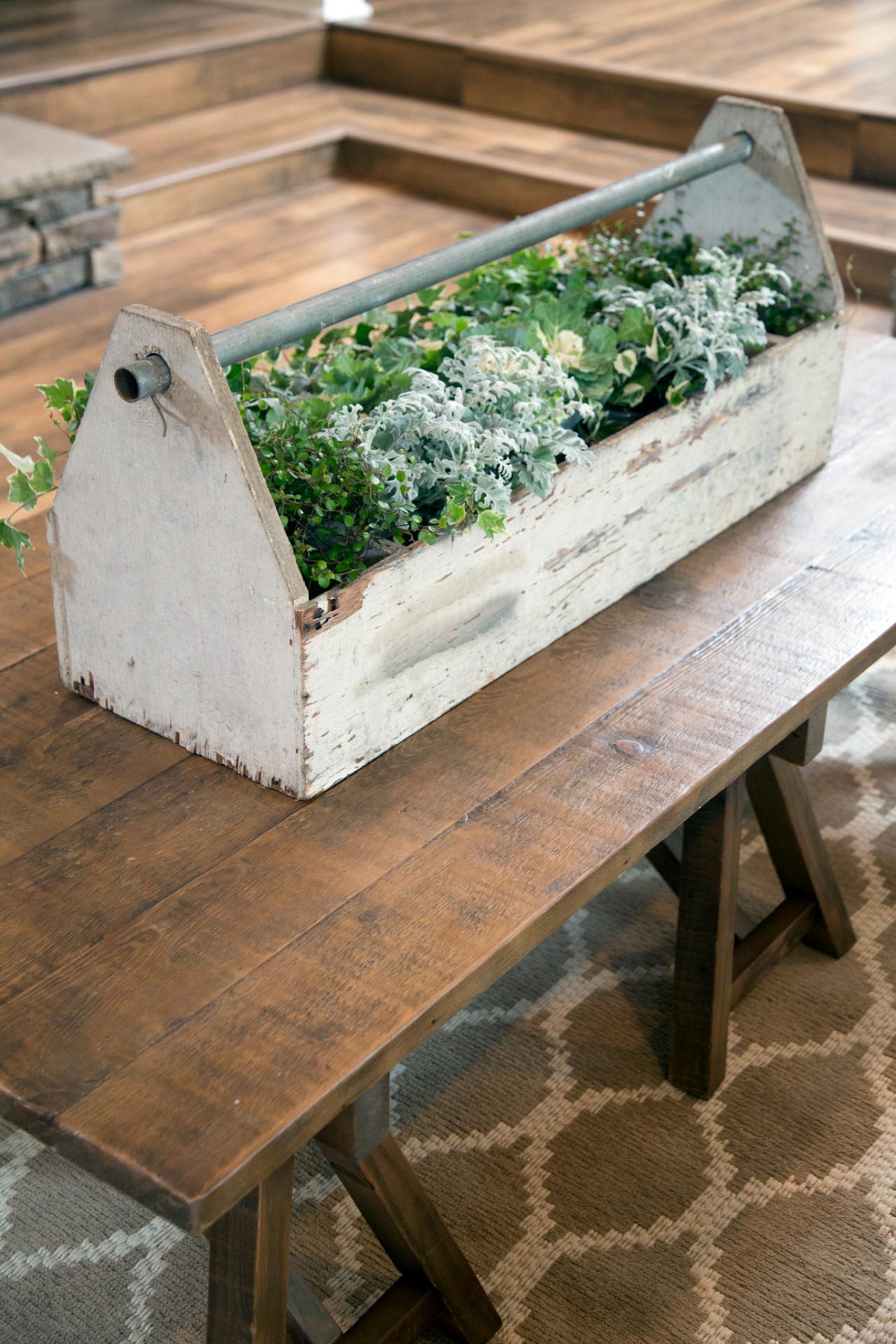 What I love about this shabby chic tool crate decoration is the essence of repurposed things. I just see a picture of an older man fixing things around his farm with calloused hands and tanned skin keeping his rusty but reliable tools this crate. Then, no longer needed for its original purpose, the tool crate was given a new life and character by becoming the centerpiece decoration in a home. While that isn't the story of this tool crate, it doesn't mean the idea isn't implied.
So, let's get our tools out and make this beauty, shall we?
The materials I used were random scraps lying around our home, but if you aren't so fortunate as to have these freebies here is your shopping list (the links below are affiliate links indicated by a *):
A 3 foot section of Galvanized Pipe*
12 foot 1x6 cut into four 3 foot sections
Section of 1x12 (at least 4 feet long)
1 1/2" screws
Circular Saw
Hole Saw*
Power Drill
Paint
You shouldn't have to spend more than $20 (not including the power tools). This project took about 2 hours to complete.
Step 1: Gather your materials
Step 2: Draw and Cut your end pieces
I didn't measure anything here and sort of wish I did. If you would like to be more precise, then measure 6 inches up the 1x12 board from the bottom and start your angle there. Also find the center of the top, measure and inch in each direction. Take a ruler and match it with the six inch mark to one side of the center mark and draw a line.
That was a long explanation of how to draw a triangle wasn't it? Anyway, go ahead and cut those end pieces out.
Step 3: Drill Holes for the Handle
This is where your hole saw comes in (which is basically a big drill bit). This took more time than I thought it would, probably because of the quality of my saw against the toughness of the wood. Make sure your hole saw is the right size for your pipe.
Step 4: Build the Crate
If you haven't cut your 1x6 into four three foot sections do so now. Obviously if your pipe is longer or shorter than 3 feet you will have to adjust your cuts and shopping list.
Assemble the crate by the corners. I used the edge of my work bench as a guide and screwed together the left side and bottom pieces and the right side and bottom pieces.
Be sure to pre-drill the holes if your wood is brittle.
These will come together by the end pieces later.
Step 5: Attach the end pieces
Ok, did you drill the holes into the end pieces? Both of them? I got to this step and had done one but not the other, which isn't too big of a deal.
The easiest way to attach the end pieces is to put the whole thing onto its side with the end board you are attaching on the bottom.
That way, you know it will be flush with the ends of the other boards. Pre-drill and screw your screws into the bottom of the crate so they won't be seen.
Step 6: Slide in the pipe
Step 7: Paint
I used the same white wash method used on this desk. It's super easy, dries fast, and gives a really cool distressed look in the end. Remember, less is more using this method!
The rustic look of the Magnolia Homes is astonishing. I ooh and ahh over every episode and aspire to replicate the look in my own home. Now that I have this tool crate inspired by Joanna Gaines herself, I feel one step closer to that dream. For the longest time our living room was not working for me, now that I've added some reupholstered chairs and this shabby chic tool crate, it's taking on a brighter and more welcoming feel.
You can make this tool crate too by following this tutorial. It is an easy level project that cost about $20 and takes about 2 hours to make. You will love the character and charm it brings to your home!
If you have any questions regarding this or any other tutorials please don't hesitate to ask! Have a lovely day friends!