An Honest Review of the Target Shabby Sofa Slipcover
This post contains some affiliate links. Check out my disclosure page for more information.Everyone is raving about slipcovered sofas! Have you noticed how many blog posts are out there giving reviews of them (especially IKEA's Erktorp sofa)?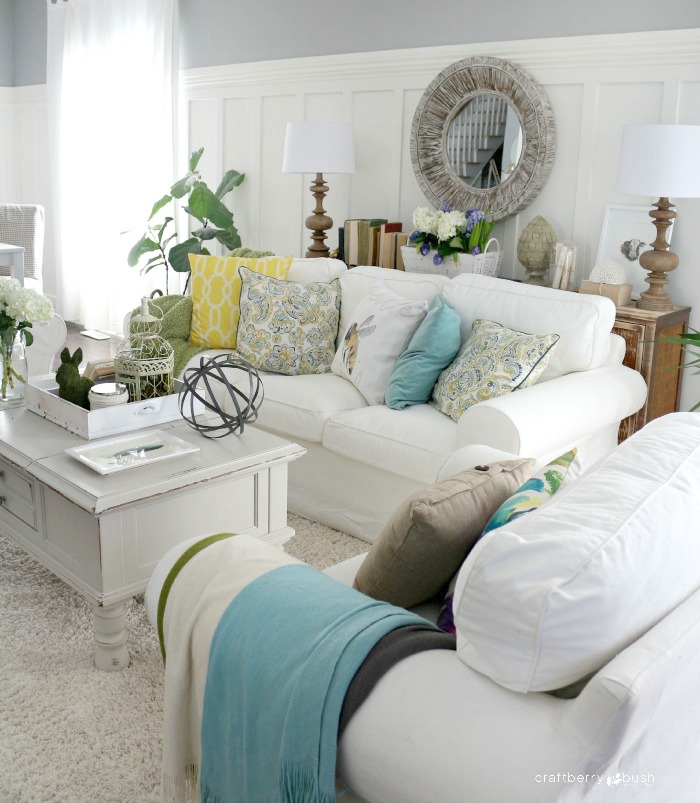 source
For a while I dismissed these for the people who have no kids, pets, or husbands and have plenty of time to wash a bulky cover, but then I started seeing real mom's with real kids writing about them and had to check it out.
source
There is a good reason for the attention. White slip covered sofas are absolutely stunning in the modern farmhouse living room. When paired with cozy pillows and a comfy throw, who could resist the look? Plus, if they actually were as functional as everyone said, it was a no brainer. I looked at my disgustingly beige living room where the walls, floors, and furniture boasted of nothing but "blah" and decided we needed a change.
We did not, however, need a new couch. Ours was new only three years ago and it is a quality sofa. I couldn't justify buying an entirely new one simply because I wanted a white cover to put over it. That's when I found Target's Shabby Slipcover*.
After taking some measurements, I bought the thing and haven't looked back since. It's been a wonderful addition to our home. I'd like to give you an honest review of the Target Shabby Sofa Slipcover after 3 months of living with it.
The best thing about it: it's beautiful. I immediately fell in love with the ruffled skirt and bright white of the material. The drastic change it brought to our boring living room was stunning. Suddenly it wasn't a room full of blah, but a room with a little more interest and contrast. And, I got this amazing transformation for a fraction of the price a new sofa would have been.
Which brings me to my next point: The price. The whole price of this beauty is $99, however, I happened to find it on sale, and was able to use my Red Card* which knocked 5% off and gave me free shipping! I became the owner of the Shabby Sofa Slipcover for a measly $70.
If you are like me you're thinking $70 is a lot for something you don't really "need", remember this: no matter what you do to decorate the room around that couch, you will never change the fact that it is ugly. If you hate your couch now, you'll resent it even more when you've put tons into changing the look of the room to no avail. But, don't buy a whole new couch! Just get a seventy dollar slipcover and your problem is solved.
Ok, but what about dirt? We'll get to that in a bit, but think of this: as Kelly from View Along the Way so eloquently states: when your slipcover get past the point of washing out stains, you could buy three new slipcovers before reaching the price of a new couch!
But, before you begin to worry about constantly buying new slipcovers remember this: they are very washable. That's the whole point of having a cover. It's impossible to wash the upholstery on your couch without professional help, but with a slipcover, it's a matter of stripping it off and throwing it in the machines like you do with your bedsheets. I've heard of some Moms that wash theirs every week, but I haven't found the need for that. Ours, after three months, is getting its first wash today, and, yes, we do actually use the thing all the time.
The final thing that I love about this slipcover is how soft and cozy it makes the couch feel. It's so much better than the thick upholstery underneath.
Now, it wouldn't be an honest review if I didn't mention some cons about the product. It isn't the absolute perfect fit for our couch. The straps get it very close, but I still had to do some extra tucking to get it smooth. This isn't a problem you would have if you bought an actual sofa and slipcover combo, but, again, we didn't have the money or reason to do that.
It was also a job getting the thing on the first time. We'll see if the second time is different, but I probably worked at it for an hour. Part of that was the perfectionist coming out in me. Once it was on, I loved it and it looked fantastic like it was meant to be there.
The material is disappointingly thin.This wasn't a huge problem for us since our couch is a light, solid color anyway, but the Target reviews from others despaired at how it did not cover their dark, patterned couches well. I guess you could always buy two for better coverage.
Since the material is thin, it wrinkles easily in the wash. I had to turn on an episode of Fixer Upper while ironing the massive thing. Which actually was super fun because I love ironing and never get the chance to watch my favorite show, but I can see where others wouldn't enjoy it.
That being said, I would not go back on our decision to get the slipcover. It makes the room so beautiful and inviting, it was an affordable alternative to buying a new couch, it is easy to wash when Jordan puts sticky fingers on it, and it is so soft and comfortable. I can honestly say I do not mind that it takes a little figuring out to get it on perfectly and that the material is thin. For us, Target's Shabby Sofa Slipcover* is the perfect match, and maybe it is for you too. Go to their website and take some measurements and I hope you love your new slipcover just as much as we do!