Top 10 Christmas Decorating Trends for 2015
Recently, I was in our attic and took a glimpse at our tub of Christmas decorations. Cheap bits and pieces that I'd desperately collected from garage sales to put something up our first year of marriage still took up the majority of the space in the tub. I remembered hating them last year. They had no meaning and no beauty to them. "If I have time, this year I'll make new decorations" I thought to myself as I climbed down to the main floor.
If you are like me and planning on updating your Christmas decorations this year, you might as well bring them up to this year's standards. That's why I've done a little research and found the top 10 Christmas decorating trends for 2015.
***Important: None of the photos below are mine, but you will find their original source by clicking on the photos themselves. Please pin from the original content to give the maker's their credit!***
Neutrals
If this autumn season is any indication of what Christmas will be like, then I believe it's safe to say that neutrals are going to be huge! In place of bright reds and greens you'll be seeing whites, browns, and greys.
Instead of the focus being on tons of color, textures will make this year's homes beautiful. Things like burlap, natural wood, and blankets are the perfect items to include to bring your decorations up to par.
Personally, I am a huge fan of this look! It's almost heavenly.
Naturals
Another thing you are sure to see a lot of is natural elements being used in abundance rather than store bought decorations. Pine boughs...
...firewood logs...
pinecones, wood slices, branches, berries,
and nuts
make excellent displays for your mantel, centerpieces, and other vignettes around your home.
Obviously this makes decorating very affordable, which is awesome for me! It also gives homes a classic look and makes you think of simpler times when the Holidays are less driven by money and technology, but by family and love.
Blue
Do you remember getting excited about Christmas lights as a kid when you drove somewhere at night? The blue ones were always my absolute favorite…they still are, and apparently I'm not the only one that thinks this way.
Bold blues are going to be very popular this year, especially paired with gold. In the past blue was seen with white and silver more, but warmer gold tones are coming back. No complaint here! I love gold!
Plaid
Maybe I'm a bit of a hipster at heart, but the plaid, lumberjack, pacific north west look makes me a little giddy. Hipster or not, a warm, plaid blanket tossed over the arm of a chair is the perfect touch for this year's Christmas decorations.
Blankets aren't the only places you'll see plaid: table runners, gift wrapping, pillows, and other decorations will feature this beautiful pattern this year.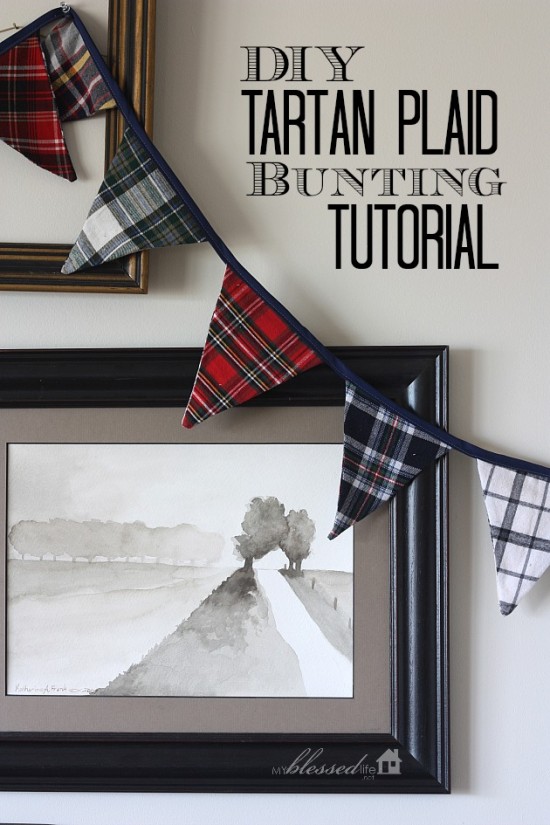 Handmade
With the rise of Pinterest, creating handmade decorations has become easier than ever. So many tutorials and inspirations are right at our fingertips and this year's decorating trends are proof of that.
Pallet signs and trees, book page ornaments, Mason jar snow globes, and burlap garlands are perfect for today's Christmas trends.
Another lucky thing for me as I am in love with DIY! So in love, I'm doing a whole workshop series on it! This year I'll be teaching three online webinars during which you will have finished over 30 handmade gifts! The first one is free!
Champagne, Silver, Gold, Metallic
Who doesn't love sparkly metallic decorations? I sure do! These soft tones make a room look so elegant and classically beautiful. This is a trend that's been around for a long time and seems like it will continue for many years to come.
Non-traditional trees
Gone are the days when everyone went out to a farm to collect their Christmas trees, and the trends are also saying faux department store trees are a fading trend as well. This year, you will see book trees, branches hung on the wall trees, old ladder trees, pallet trees, ornament trees, drift wood trees, and book page trees!
For us, I can't let go of the tradition of getting all dressed up in winter clothes to hike around the acres of the Christmas tree farm in search of the perfect one for our home.
Geometrical
All through the year we've seen geometrical elements rise in popularity and Christmas 2015 will be no different. These angular elements will be seen especially in ornaments on trees, adding a colorful, modern look. The coolest part about them is they make for an easy DIY project.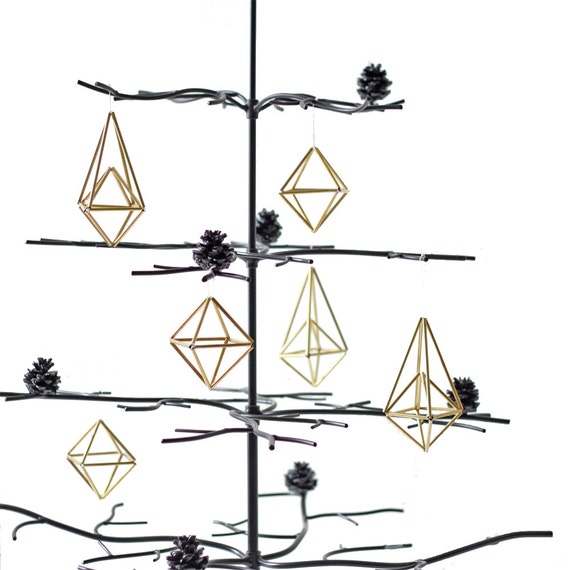 You can probably predict my reaction to these: not really a fan, but, hey, everyone has their own tastes! That's what makes Christmas such a fun time to decorate! It can be so personalized!
Peppermint
Last, but not least, red and white seems to be a choice color combo for this year's Christmas decorations. It's classic and fun and doesn't get old. You might be surprised, however, to see it in more forms than the candy such as drinks, ribbons, gift wrap, and ornaments!
Vintage/Retro
The 1950s and earlier seem to be coming back more than ever this year! It's so fun to see the old time, rosey cheeked Santas and old car toys, typewriters, little Christmas villages you put on your mantel, and mid-century wreaths adorn this year's homes. I guess Christmas is as good a time as ever to bring back the past!
Regardless of what the trends are this year, the values and warm feelings Christmas brings will always be the same. I hope you've found this helpful as you look at updating your Christmas decorations tub, as I will be doing for mine. It's going to be a huge job, so I better get started!